Hey, everybody! I've missed you. I know I said I was taking a break for a "couple" of weeks, but a "couple" is turning into "several". I have some non-blog stuff I'm trying to take care of right now (Like cleaning out my closets so I can actually open them without an avalanche ensuing. And trying to start exercising and eating better... you know, all that New Year's resolution stuff that I'll give up on by the end of the month :) I also have some non-blog business to attend to next week, so I am going to pin myself down right now and tell you that I will officially be back to blogging on January 23rd. You can count on it. And the first thing I'm going to share with you is one of two (yes,
two
) quilts that I made in the weeks leading up to Christmas. I'm so flipping proud of them :) They were a huge check mark on my to-do list... the Sherbet Pips quilts that I have been talking about
since last March
! I think I completely missed the boat on the Sherbet Pips craze, but I still love that fabric line, and my girls love their quilts. I guess I don't move fast enough to stay on top of the latest and greatest ;)
I love blogging. I love the people I have met through blogging and everyone who stops by here and visits. But I also love my family, and it has been so nice to spend more time with my girls and enjoy my evenings sitting on the couch watching TV with my husband for the last few weeks instead of working away at the sewing machine or at the computer all night. I think I just needed a little break from it all. It was during one of these evenings sitting on the couch that my husband asked me where
his
quilt is, so I guess I've got another quilt on the list for 2012 (I think I'm up to 5 that I want to make this year. If last year is any indication of how quickly they are going to get done, I'm in trouble :)
The girls working on their gingerbread house with my mom.
What else do I need to tell you? Oh, my bedroom is painted! I mentioned in a decorating
post back in October
that I had chosen "
nimbus cloud
" from the Martha Stewart Home Depot line. I
love
it! It turned out fantastic. It's so calming. I haven't done anything else in the room yet, but you'll be the first to know when I do.
I already
posted about this just before Christmas
, but in case anyone missed it, I started a
Gwenny Penny Flickr group
. If you have made anything using one of
my tutorials
, I would love it if you would add some pictures to the Flickr group.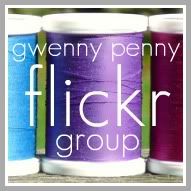 Point of View
is back! The theme for January is... LOVE! Point of View is all about your interpretation of the theme. We can't wait to see what you come up with. The reveal and link party will be Friday, January 27th.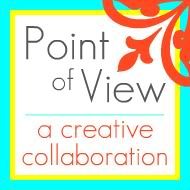 Also, I want to let you know that my friend Kindra is hosting her 2nd annual
Be Mine Bonanza
over on her blog
At Home With K
, featuring seven Valentine's Day tutorials from seven different bloggers (including me!). The event starts next Sunday, January 22nd.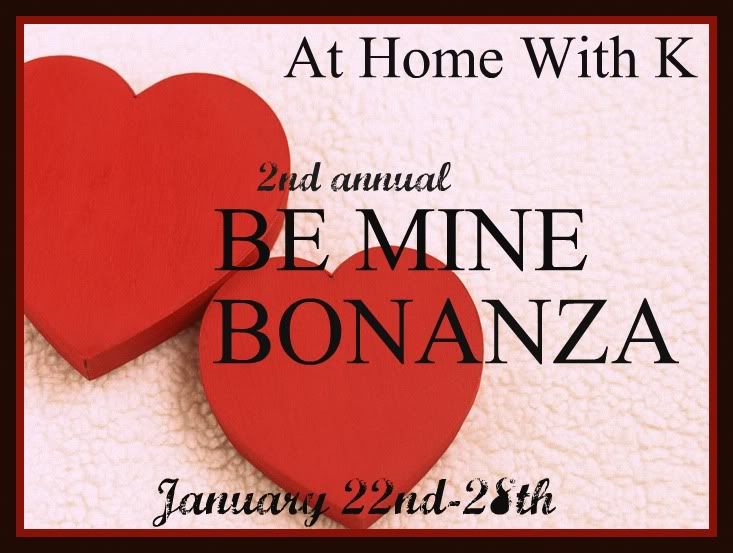 This has turned into quite the random mishmash of a post, huh? But it's like talking to a friend you haven't seen in a while, you know? So much to say, so many things to fill you in on.
OK, so I will be back soon with the quilts and some other Christmas gifts that I made. Oh, and I have a really cool giveaway lined up for the week I come back, so be on the lookout for that, too. Hope everyone is enjoying the first weeks of 2012. See you soon!