I dragged my girls to Goodwill last week just to see if there were any goodies to be had. For months I've been looking for a nice cheese dome to transform into a decorative cloche, but I had yet to find one. Well, it was my lucky day. I found an amazing piece for $1.99. It was mixed in with the plastics. Thank goodness I was paying attention. Here's the before and after...
At Home With K
is a genius with a can of paint. And I am also continually inspired by Kristi over at
The Speckled Dog
. Her thrift store
makeovers
are amazing.
I painted the wooden plate with a spray can of Rust-Oleum Heirloom White. I did two coats. When that was dry, I sanded inside the nooks and crannies and around the outside edge to distress it a bit. Then I followed
Kindra's advice
and rubbed MinWax Early American over the entire plate. I immediately wiped it off using clean paper towels.
I love this piece! And I'm so happy with how it turned out for my first try at distressing and aging.
In preparation for spring, and after being inspired by
this post
that Kristi did, I added a little nest with three robin's eggs inside. I bought a sleeve of 20 little foam Easter eggs at the Target dollar spot for $2.50. They had ribbon attached to them for hanging, so I just cut the ribbon off. The nest was actually a decoration from my wedding almost ten years ago. I knew I had saved it, so I dug around until I found it.
So, my $1.99 cheese dome was transformed into a beautiful spring centerpiece for less than $10. I love it!
Kindra has started up a new link party called "Terrific Under Ten Tuesdays".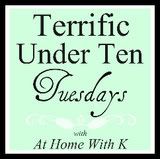 Make sure you check it out and link up any DIY projects or great finds that you made or bought for $10 or less. Thanks for stopping by today!
I'm also linking up over at Kristi's...