Remember on Monday when I said that I was in a creative funk? Well, I'm still not motivated to get sewing, crafting, or anything else for that matter. I need to pull myself out of this, and I'm going to need the help of the man, the myth, the legend…
MacGyver
.
Have I gone completely crazy? Not to worry. There's a perfectly good explanation for all of this. My friend Lorene over at
just Lu
is hosting a year-long new series called
Housewife MacGyver
, all about becoming more self-reliant by using resources wisely.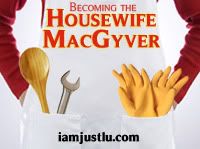 To kick things off, January is a
challenge month
following the first MacGyver commandment: COMMIT THYSELF… commit to something and then get it done. I have decided to commit to getting my sewing area organized so that I can just sit down and sew without having to remove a 10" pile of stuff from the table and the top of my sewing machine. I think the fact that I currently cannot see my machine is part of my lack of motivation to create. So, by the end of January, I am going to have a completely organized and clean sewing area, and it is going to stay that way! I can't wait to get started on this project, because it actually means a change in the location of my sewing area (back to my
closet
), a little light carpentry, and a trip to IKEA. I hope this works out as well as I think it's going to. Hopefully I'll be showing you the finished product in a few weeks!
Housewife MacGyver is going to be a great series, and I'm so excited that Lorene asked me to be a part of it… I'm going to be guest posting a few times throughout the year, even using my engineering background for one post in particular. The Mac would be so proud!
Do you need to commit yourself to doing something? Have you already made a New Year's resolution? Hop on over to
Lorene's blog
and check it out because if MacGyver can't motivate you, who can?