Hello friends! Cecily from
Craftopotamus
here. I'm so excited to be sharing something for Haul Out the Holly! I've whipped up a quick and easy Christmas ornament tutorial for you. You will need...
1 package clear glass ball ornaments
tinsel, garland, paper craft shred, yarn, etc. to your liking
paint markers or sharpies
either ornament hooks or ribbon
(ignore the spray paint, I ended up saving that for another project)
Start with one so-boring-you-can-hardly-see-it clear glass ornament.
Remove the top...
Stuff it with paper shred, or cut up tinsel, garland, yarn, etc.
For this one, I used green craft shred. You may want to use a pen or a knitting needle or something along those lines to distribute the stuffing once it is inside the ornament. Then, replace the top...
Use the paint markers to personalize them any way you'd like.
Make a few more... here's one with cut up icicles.
You can even decorate them with simple pictures... anything you can draw... I don't have one, but I bet some of those vinyl decal things everyone else seems to have would also be great here... For this one I stuffed it with cut up pieces of red metallic garland.
You can use an ornament hook to hang them or make a ribbon hanger. I just used ornament hooks because these are going on my tree, but if they're for a gift you may want to snazz them up with ribbon.
And that's it! You're done! Nice and easy!
The last one on the left is one that I filled with blue yarn. I hope this gave you lots of great ideas and that you enjoy the rest of Haul Out the Holly!!
And feel free to stop on by Craftopotamus anytime for more of my projects...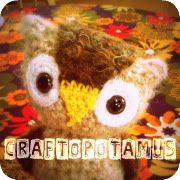 A super huge thanks to Gwen for hosting Haul Out the Holly! Happy Holidays!!
Cute idea, Cecily! I especially like the red garland filled ornament. These would make great Christmas party favors. Cecily is an extremely gifted quilter, and her blog Craftopotamus showcases her many talents. And make sure you check out her Recycled Bird Seed Bag; it's amazing! Thanks, Cecily, for sharing your ornaments with us today!
Click

HERE

to see more

Haul

Out

the

Holly

tutorials!